Here you find some complete double opt-in and free form php mail scripts with basic css design. You can download the free package and integrate an automated double opt-in mailing list subscription manager with a website "subscribe to mailing list" form field like the below box.
an email will be sent to your visitor asking for email subscription confirmation.
the user clicks on the link inside the email and confirms his will to join your mailing list
you can gather all the subscribed email addresses into SendBlaster Bulk Emailer
We developed different css web form mail looks to match with your website feeling.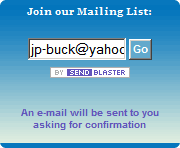 Download this php and css source double optin web email form double_opt-in_php.zip (11,1 kbytes)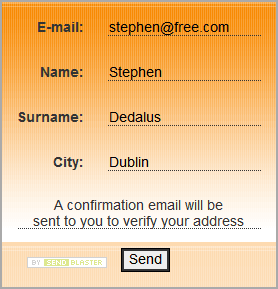 Download this php and css source double optin web email form allfields_doubleoptinphp.zip(20,7 kbytes)
Installation in 5 easy steps instructions
Open the file NL-process.php with a Text Editor (i.e. Notepad.exe)

Substitute the test email with your real newsletter email (may be the same in your bulk email software, or mailing list manager, in our desktop software SendBlaster this is the Manage Subscription section).

Open the file NL-confirm.php, and enter your newsletter email.

Open the file newsletter.htm and copy the FORM lines to your personal webpage.

Upload to your website the files:
NL-process.php

NL-confirm.php

NL-style.css

NL-ok.htm

NL-ko.htm

confirm-ok.htm

confirm-ko.htm

your modified html page.
That's it!
A brief note about US and European Spam law
The actual approved US CAN-SPAM Act requires an opt-out solution in your emails, this can be enough for American law. Please consider that the European Directive 2002/58/EC is more restrictive and requires mandatory "opt-in" modules to gather the customer emails for email marketing and newsletter subscription. The double optin subscription management is the best way to respect your customer's privacy.