SendBlaster is a free bulk email software, a mass email marketing program and a bulk emailing sender.
Discover the cost effective solution, pay just one time and manage your email marketing easily using a desktop software.
Once upon a time, the only way to make a good email marketing was Web based solutions. Now you may have the same results and functionalities avoiding expensive Web based services and managing your own email marketing with a desktop software for just 85 Euro (one time payment, no recurring fees).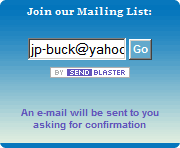 Create impact email:
Using our free templates
Creating it with the editor
Creating it with your HTML editor
Asking your Web designer to create a professional custom template
Asking for a quote for a custom template made by our professional designers and email marketing experts
Build your permission based list
Create customizable forms for your Website with our free service www.form.html.com
All data collected will be inserted inside your list and you may strart your permission email marketing immediatly with the free version or purchasing the Pro version
Analyze results of your mailings
An effective email marketing requires to analyze data. SendBlkaster together with Google Analytics let you know if after reading emails your customers purchase your products, subscribe your Website or finalize goals you setted in your Google analytics.
Moreover we give for free our stats service (now in beta) in order to know stats of email opened, clicks and so on.