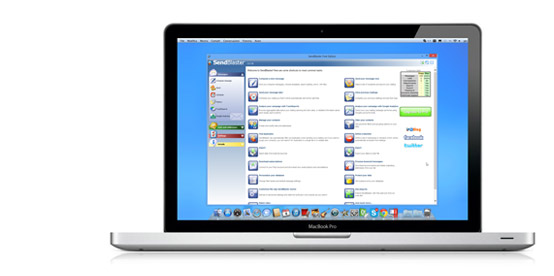 Use Parallels Desktop
Harness the power of SendBlaster and its functionalities directly on your Mac. With Parallels Desktop and a Windows license (that allows the use of applications developed for Windows on Apple devices), you will be able to enjoy the stability and fluidity of all the features that Sendblaster provides for the management of your email marketing campaign.
With a few clicks you can configure Sendblaster and use it without any limitation, slowing or compatibility issue. All the software's functions, from the message creation with our built-in editor, to the management of contact lists and the final mailing of the newsletter via your SMTP server, will be fully functional as if you executed the software on a Windows PC.
In addition, with Parallels Desktop and a Windows license you will be able to install and use without problems your favorite Windows applications directly on your Mac OS X Mountain Lion (or earlier releases).
Switch to the cloud
Also in consideration of the demands put forward by Mac users, the SendBlaster team has developed a platform to do email marketing regardless the installed operating system. It's called eMailChef and works entirely in the cloud.
This system is designed to make the work of creating and sending newsletters faster and definitely professional. eMailChef stands out for:
Drag&drop editor to create an email with great visual impact in an intuitive way;
Highly flexible management of contact lists and segments;
Integrated tool for campaign analysis;
Editor to create registration forms;
Email automation tool.