SendBlaster 3 comes with a new a sidebar widget panel. The panel offers you some small tools that can make things easier while you create and send your emails with SendBlaster.
How do I use Widget Panel?
Widget Panel can be opened from any section of SendBlaster.
To view it, simply click on the three small triangles in the right hand corner of each section.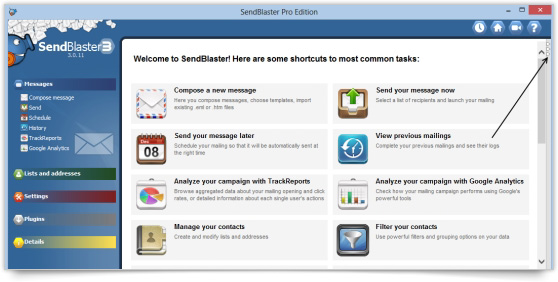 The sidebar panel will automatically expand.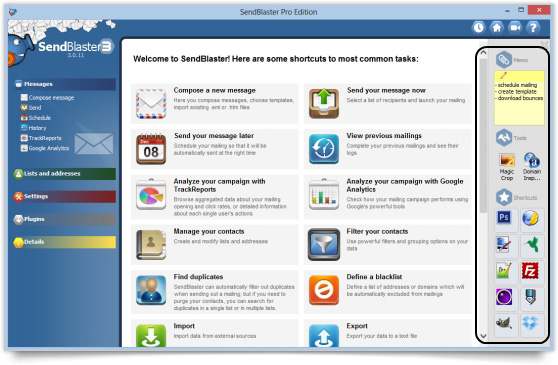 As you can see, the Widget Panel consists of three different sections:
Memo. Here you can save some short notes, memos and to-dos lists across sessions. To insert them, simply click on the Pencil symbol and then click anywhere on your screen to save them. You can edit/cancel them by clicking again on the Pencil symbol and selecting the text you want to delete.
Tools
Here you can find two different tools.
Magic Crop. This tool allows you to resize images very simply.
To use it or drag and drop a picture file onto the work area in the left side of the window and choose the size of the adjusted image (pixels).
Magic Crop will automatically resize and crop the selected area of the original image, so that the adjusted image will perfectly fit the new dimensions.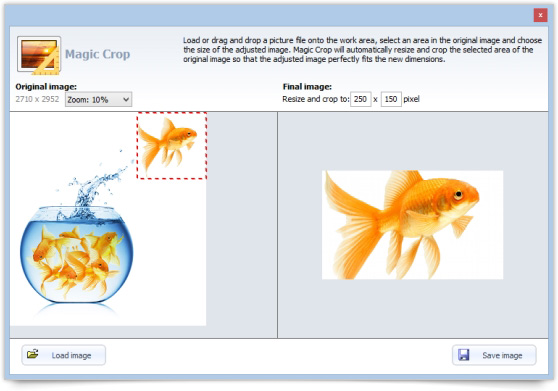 Domain Inspector. This small tool allows you to check the email address domains of your contacts. To use the Domain Inspector tool, select a contact from your list (in the Manage List panel) and then click on the icon.
You can check the domain directly in your browser or you can visit the Alexa website, where you can obtain even more stats about the selected domain.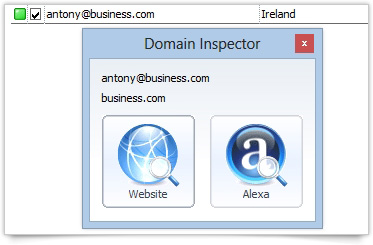 Shortcuts
In this area you can save up to 10 of the most frequently used programs that you normally use while working with SendBlaster.
To save them within SendBlaster, simply drag and drop the program icon to the Shortcuts section. For example, you could create shortcuts for your favorite html editor, design program or the note pad.
This way, you will be able to open them faster directly inside SendBlaster.
More new gadgets will be added soon!