If your needs are limited to ony 50 emails at a time per week but you still want to rely on an advanced email program and create beautiful newsletters, the best choice is to download SendBlaster Free Version.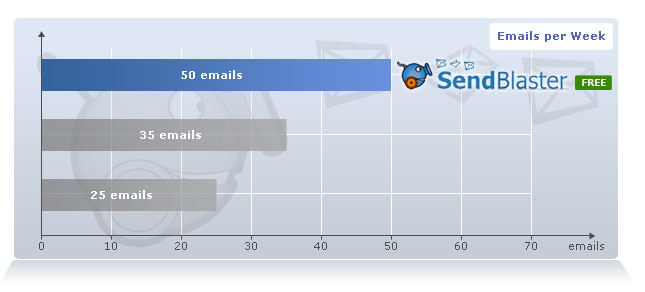 This basic version is already a great progress if compared to a normal mail client (which is not primarily designed to send mass emails but only to manage your daily communications). Plus, it's completely free of charge.
More in detail, with SendBlaster you will get:
a rich set of free email templates
personalized model creations
a smart WYSIWYG editor to design your newsletter in a few clicks
a tool for list management (subscription/unsubscription, data filter etc.)
complete bounce-back management tool
free scripts for your website (e.g. opt-in and double opt-in forms)
an email preview tool
functions to import your lists from Outlook, .csv and a website
customizable fields
Remember…
Remember anyway that SendBlaster Free is a limited version of the full software: that is, you will be able to send only up to 100 messages per day and create only two lists; also, the email assistance is not provided and you cannot send attachments.
Let's say that it's a basic solution for minimal needs, but to send more messages or set up a really professional email campaign, you should consider to upgrade to SendBlaster Pro.
For a reasonable price you will get a complete email software with a lifetime license.