If you plan to send 100.000 emails at a time each day you must definitely choose a professional newsletter tool that makes the whole process both easy and reliable.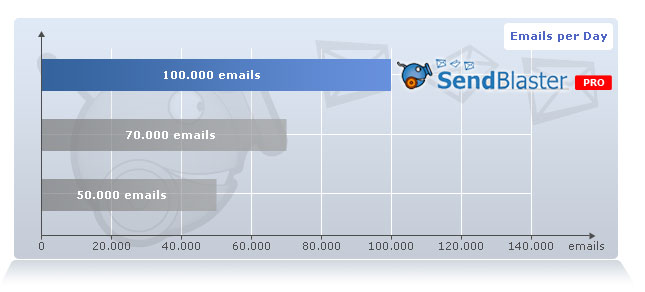 Such a large user list deserves the best treatment: beautifully designed newsletters and a perfect management of both subscriptions and unsubscriptions.
That's why SendBlaster Pro is the right choice: with a one-off payment you'll get a lifetime license for an advanced email software, complete with:
more than 100 free, ready-made email templates crafted by professional designers
a smart, WYSYWIG and HTML editor to personalize every aspect of your email
the possibility of send unlimited emails and manage unlimited user lists
a statistics service to keep track of all email opens, clicks and bounces (complete with a Google Analytics integration)
a password protection
an email preview tool
a set of plugins for your website
up to 50 simultaneous connections
our technical support service by email
Remember…
Remember also that to deliver such a great quantity of emails needs is compelling to rely on a professional SMTP service. In fact, if you use a common outgoing server (like the ones provided by Gmail, Hotmail or Yahoo, not designed for mass emailing) a certain part of your messages will be rejected by antispam filters.
Even if all your recipients have opted in to receive your communications, these filters have become that severe that a daily 100.000 emails blast will be taken as suspicious. That is why we recommend to choose a dedicated SMTP server like turboSMTP.