If you need to send 10.000 emails per month (at once or in smaller mailouts) you definitely need to rely on an advanced tool: the ideal choice is SendBlaster Pro.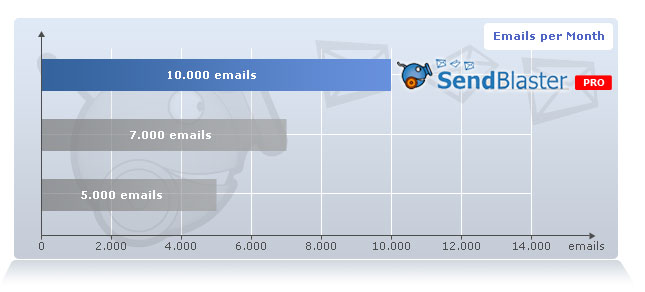 SendBlaster Pro will make it easy both to craft and send your newsletters and manage your customer list. Among its main features, you will find:
more than 100 free, ready-made email templates crafted by professional designers
a smart, WYSYWIG and HTML editor to personalize every aspect of your email
a statistics service to keep track of all email opens, clicks and bounces (complete with a Google Analytics integration)
the possibility of send unlimited emails and manage unlimited user lists
a password protection
an email preview tool
a set of plugins for your website
up to 50 simultaneous connections
our technical support service by email
Remember…
Also, it may be a good idea to choose a professional SMTP service to send 10.000 emails per month. In fact, if you use a common outgoing server (like the ones provided by Gmail, Hotmail or Yahoo) you will probably run into some deliverability problems.
As antispam filters become more and more severe, only a dedicated SMTP service can guarantee that all your emails are correctly delivered without getting lost or rejected.