If you have planned an email campaign based on around 1000 relays at a time per day you can manage it easily with SendBlaster Pro.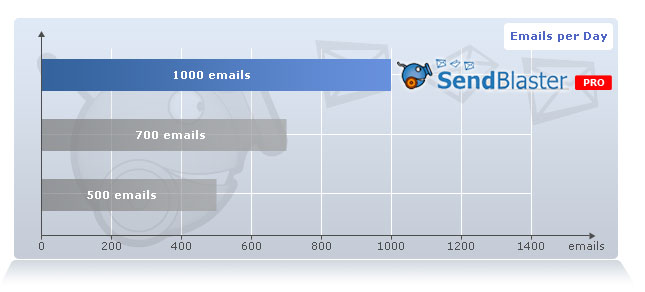 For a very reasonable price you will get a complete newsletter software that will make surprisingly easy to create and send your emails, design templates, and manage your lists of recipients.
SendBlaster Pro is a cost-effective desktop program that comes with a lifetime license: so you won't need to access any web-based service nor pay for extra services. Among its main features, there are:
the possibility of send unlimited emails and manage unlimited user lists
more than 100 free, ready-made email templates crafted by professional designers
a smart, WYSYWIG and HTML editor to personalize every aspect of your email
a statistics service to keep track of all email opens, clicks and bounces (complete with a Google Analytics integration)
a password protection
an email preview tool
a set of plugins for your website
up to 50 simultaneous connections
our technical support service by email
Remember…
Remember also that sending 1000 emails at once per day with a common SMTP server – like the ones provided by a normal account on Gmail or Hotmail – can make you run into deliverability issues.
That is, a certain quantity of your messages may get lost because of antispam filters: simply put, those servers are not designed to support a mass email campaign.
So to guarantee a full delivery rate you may want to integrate SendBlaster with a professional SMTP service like turboSMTP.