MyTracking is a service built on top of TrackReports (users of previous version please read here); it allows you (the sender) to track links directly from your web site: all tracked links are on your own web site with your own url.
As an example, when you add tracking to your message, a typical link in your message looks like this:
https://www.mywebsite.com/[mytracking code]
(obviously, www.mywebsite.com is a placeholder for your own domain)
MyTracking is now the only allowed method of using TrackReports, and has many advantages over the previous system:
It may greatly increase deliverability (as no links to third party sites are on your message)
It reduces the chance that any abuse of the tracking service by spammers will impact your own mailing (the tracking link is not shared by other senders)
It improves your sender reputation with antispam filters, as you are not masking your own domain
The message looks better and more "professional" to recipients, as it uses your own urls instead of third party's.
Great, isn't it? But here's more: since the service still uses our servers as its back-end, there's no significant overhead to your server, and installation is really a breeze – it only requires uploading a single small script to your website (without any configuration at all – you don't even need MySql).
Switching to MyTracking has no effect on the way you access your reports: they are on your Trackreports account as usual.
Prerequisites
In order to use MyTracking, you need SendBlaster 2 or later; and you need to be able to upload a PHP script to your website (which must support PHP 4.1 or later, but nowadays nearly all web servers do).
If your website does not support PHP (very unlikely), don't worry! The script is so lightweighted that it can be hosted even on a basic PHP hosting plan (it doesn't even need MySql); the best strategy is subscribing a plan just for hosting the tracker (which can reside on a different server from the one hosting your web site). The advantages are so significant that you will not be disappointed with this small extra effort.
Installing MyTracking on your server
1. Download the following archive:
https://www.sendblaster.com/download/mytracking.zip
and extract mytracking.php (the package also contains a .pdf file with more detailed instructions).
2. Rename mytracking.php to something different (use just letters and numbers; keep the .php extension); the script does not work if it is not renamed. As an example, rename it to mt.php. You don't need to open or edit the script.
3. Upload the renamed script to your website's root directory, so that it can be reached by any browser (e.g. https://www.mywebsite.com/mt.php). From now on, we will refer to its url as "MyTracking url
That's it!
Before going further and using MyTracking for the first time, please test the installation: launch MyTracking url (in our example, https://www.mywebsite.com/mt.php) in your browser; if everything is ok the browser should load a page which looks like this: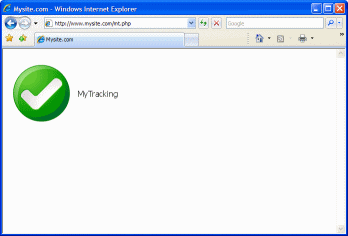 If you see anything different in the page (errors, or a blank page) something is wrong with your installation: make sure you uploaded the file in the proper directory on the server (usually you need to FTP to the main public_html directory), check its url, make sure your web server supports PHP.
Using MyTracking in your SendBlaster mailing
Make sure you have upgraded SendBlaster to latest release (2 or later). When you launch "TrackReports" Wizard in the HTML editor (go to "Compose message", then click on "TrackReports" button in the editor's toolbar), a new window will pop up; enter your "MyTracking url" (the url of the script you uploaded) then click "OK":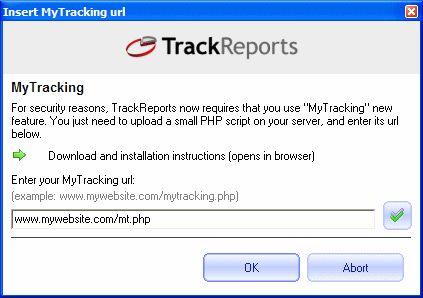 From now on, everything will go on "as usual" – you will be requested your TrackReports login in order to proceed.
Checking Reports
In order to check your reports, just login to TrackReports from SendBlaster as usual – there's no difference between an"old style" mailing (e.g. made with TrackReports' previous releases) and a mailing using MyTracking. You will still have your old reports in your account.