Mailing group management is a key feature for every group mailing software used for email marketing.
A group email is sent entering the customer data into the group mailer database. When our email database is filled with our customers informations, we can send a group emailing to the selected mailing list group.
The multi email software SendBlaster integrates a group email management section that sends html, txt or hybrid emails to selected email groups.
The group email sending can be done also by filtering the mailing list into meaningful mail groups. Sending aureated group mails can be dangerous for our clean sender status, since stylish emails full of HTML code and images are often considered spam by the common anti-spam filters (here's a guide for sending group emails without spam).
If we want to send a group email to our entire mailing list we just check and mark all the group email addresses with green sign: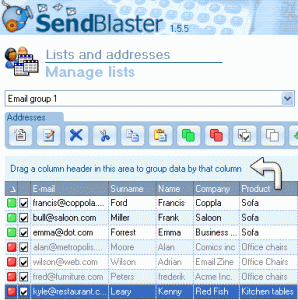 If we want to sub-group emails into SendBlaster group mail sender software we have to select a database mailing list inside "manage lists" section. Now we drag a column header into the mailing group sort area (upper part). This action will group your emails by the "product".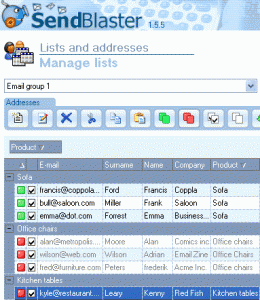 Now we can send group emails to the selected group. Sending group emails can be very easy if we have an email database of our customers. A email group database can be built from scratch, entering one by one every email address into our email groups. If you already have a customers database you can import your email groups into sendblaster with the import .csv routine. We can also add a new email group with the mailing list manager panel. Lets select the new list icon: