The unsubscribe process should be quick, easy and painless.
For example, you should never deliberately hide the unsubscribe instructions or make them complex. A transparent unsubscribe process will definitely help you maintain your sending reputation with your subscribers …and ISPs!
SendBlaster 3 offers you a new powerful feature called Global Unsubscribe that will instantly help you optimize your unsubscribe process when managing multiple lists.
How does it work?
With the Global Unsubscribe feature, the recipient who has requested to be opted out of your email list will automatically be unsubscribed from all lists in which his/her email address is found.
This means that even if you have copied the same email address in different email lists, thanks to the Global Unsubscribe feature, you will be able to remove it in a single click. No need to manually update lists anymore!
To enable Global Unsubscribe, simply click on the Global Unsubscribe check box in the Manage subscriptions panel.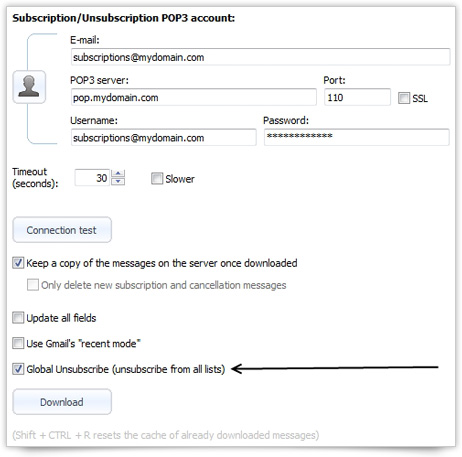 If you do not activate the Global Unsubscribe option, the address of the recipient asking be removed will be unsubscribed only from the list where you have added it.
As you can see, this feature can be particularly useful if you manage many email lists with SendBlaster. We suggest that you leave this option enabled if there are no specific reasons you should not do so. In fact, you will immediately have certain benefits, such as:
reduce recipients' complaints,
manage clearer email lists
improve your sending reputation
In SendBlaster 3 a similar option is available for Bounces as well, and it's called Global Bounce.
Similarly with the Global Unsubscribe feature, the Global Bounce option allows you to remove all hard bounces (e.g. Invalid email addresses) not only from the selected list but from all the lists you manage with SendBlaster.
To enable the Global Bounce option, simply go to the Manage bounce-backs panel and check the Global Bounce checkbox.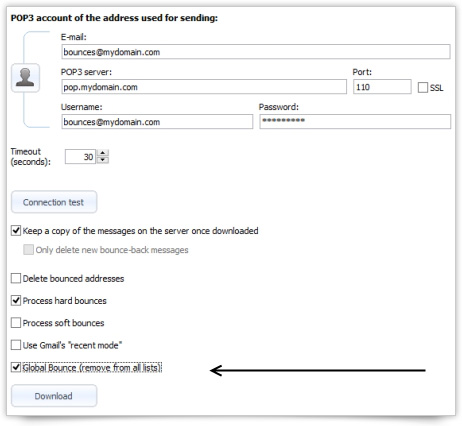 We strongly recommend you leave this feature enabled.
You will be able to maintain clean email lists, and, as a consequence, enhance your reputation and email deliverability!