No Monthly fee but lifetime license
Constant Contact offers services to send email newsletters with monthly payments. Our software SendBlaster, instead, is based on a completely different concept to do email marketing, provides the simple purchase of a license, and allows unlimited use and free time.
Now we'll try to compare certain features, especially the prices, between the Constant Contact system SendBlaster 2 Pro.
THE MORE YOU SEND, THE MORE YOU SAVE
No. of contacts/month
SendBlaster
($)
Constant Contact
($/year)
Saving
($/year)
Up to 500
133
180
– 47
Up to 1.000
133
360
– 227
Up to 2.500
133
360
– 227
Up to 5.000
133
600
– 467
Up to 10.000
133
900
– 767
Up to 25.000
133
1.800
– 1.667
Chart
The chart shows what makes SendBlaster one of the most competitive software industry for sending and managing email. The saving is substantial from the first month of use ($ 47.00), comparing the cost of the license SendBlaster amount of the first installment of Constant Contact Service.
With SendBlaster you can send unlimited emails from the activation and thus be immediately ready to get started with your email mktg campaigns.

The best place for your data is your hands
Constant Contact bindings its users / customers to operate in their own platform that is completely on-line, forcing all users to continually uploading information (often sensitive) as a database, etc…This could be a risk for your lists, both for the loss of data resulting from malfunction of the server or for a possible hackers attack who can view and/or steal the data you have published.
With SendBlaster you do not need to worry about the security of your data and information, for the simple reason that they remain safe in your PC. Your information will be immediately available to be loaded into the software without undue expectations arising from the speed of bandwidth or server overloaded.

User-Friendly and very intuitive interface
Sendblaster is an "User Friendly" software that allows even users with little experience to get started with email marketing in a professional way. Usually on-line services, such as Constant Contact, offer graphical interfaces and multiple secondary functions that can be not strictly necessary for the success of an email marketing campaign.
Furthermore, desktop softwares, compared to online services, provide better speed performance, without any bandwidth's limitations that usually affect the email marketing campaign results.

16 languages Vs. one
email marketing services like Constant Contact "speak" english only, assuming that all worldwide users understand it. Actually those platforms contain tons of different commands and information that non-english users may have some difficult to interprete.
In order to offer an easier approach to users, Sendblaster has been translated into 16 different languages, including all most popular like Spanish, French and German, and some country-specific languages like Greek, Turkish and Bulgarian.

Google Analytics and Track Reports integration
All professional email marketing campaigns should produce detailed reports and an equally thorough analysis of the results. Google Analytics – the most widely used reporting tool in the world – is the easiest to navigate and to customize to your needs. The online platform of Constant contact, between among their reporting systems do not include neither Google Analytics or Track Reports. These analytics tools are instead integrated in the latest version of SendBlaster. With these important tools, your email marketing campaign is always under control, allowing you to increase efficiency and professionalism.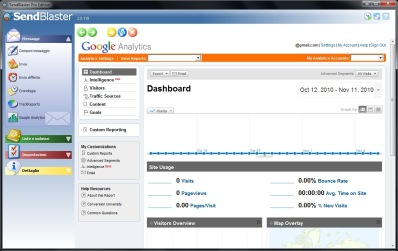 Deliverability = clean lists + interesting content + good smpt service
Professional SMTP services are often used to reach higher levels of email deliverability. SendBlaster is configured to work with any professional SMTP service and despite this, it still results much more affordable than Constant Contact's prices.
No. of contacts/month
SendBlaster + Turbo SMTP
($)
Constant Contact
($/year)
Saving
($/year)
Up to 500
157
180
– 23
Up to 1.000
157
360
– 203
Up to 2.500
241
360
– 119
Up to 5.000
241
600
– 359
Up to 10.000
325
900
– 575
Up to 25.000
745
1.800
– 1.055
Up to 50.000
889
3.000
– 2.111
Up to 100.000
1.548
5.700
– 4.152
SendBlaster is cheaper and gives better results… Need anything else?