It's very common to manage multiple distribution lists. For example "Customers" and "Prospects", "Suppliers" and "Partners", etc. Many SendBlaster users manage email marketing activities on behalf of different clients, so it's natural having separate email lists of contacts to maintain.
SendBlaster 3 makes it easy to manage multiple lists for email marketing, introducing the List Merging and Moving feature, a powerful tool that allows you to merge two or more lists and move a group of contacts from one list to another in a very easy and quick way.
First of all, open SendBlaster 3, click on Lists and Addresses > Manage Lists (side menu) and select the name of the list containing the contacts you want to move.
Click on the icon in the horizontal menu.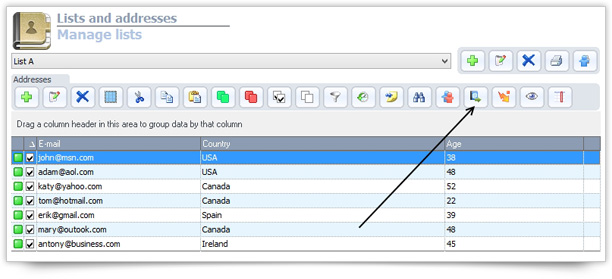 The List Merging and Moving window will appear.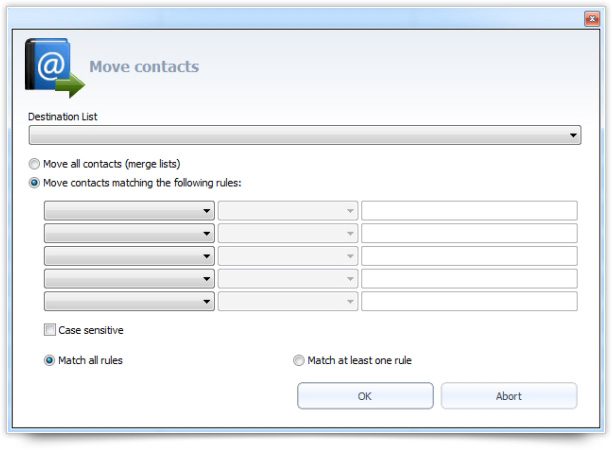 You can see that there are many options available depending on your needs.
For example, you can move all contacts from one list to another (with a single mouse-click!) or create some rules in order to move specific contacts only.
In particular, if you choose to move specific contacts you could do it simply by setting your rules. In the first drop-down box you will get all contact fields, like Email, Last Name, First Name, etc, while in the second drop-down box, you will see all the conditions you can choose from.
Example
Let's say you want to move all Gmail contacts who live in Canada and are 35 years old or older from List A to List B.
First of all, select List B as destination List, then select the Move contacts matching the following rules radio button. Now select "Email", "Age" and "Country", and the correspondent conditions, adding custom text in the third cell.
The result will be: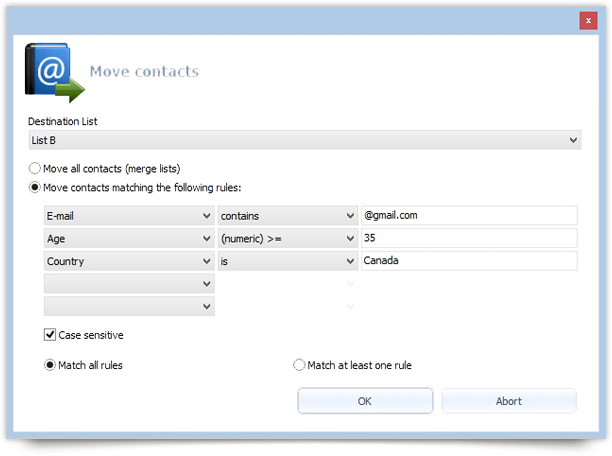 The operation can also be case-sensitive. In this case, simply select the Case sensitive checkbox.
Choose if contacts to be moved should match all rules stated above (gmail accounts, Canada, >= 35 yo) or at least one.
Finally, click OK.
Your subset of contacts will be automatically moved to List B.