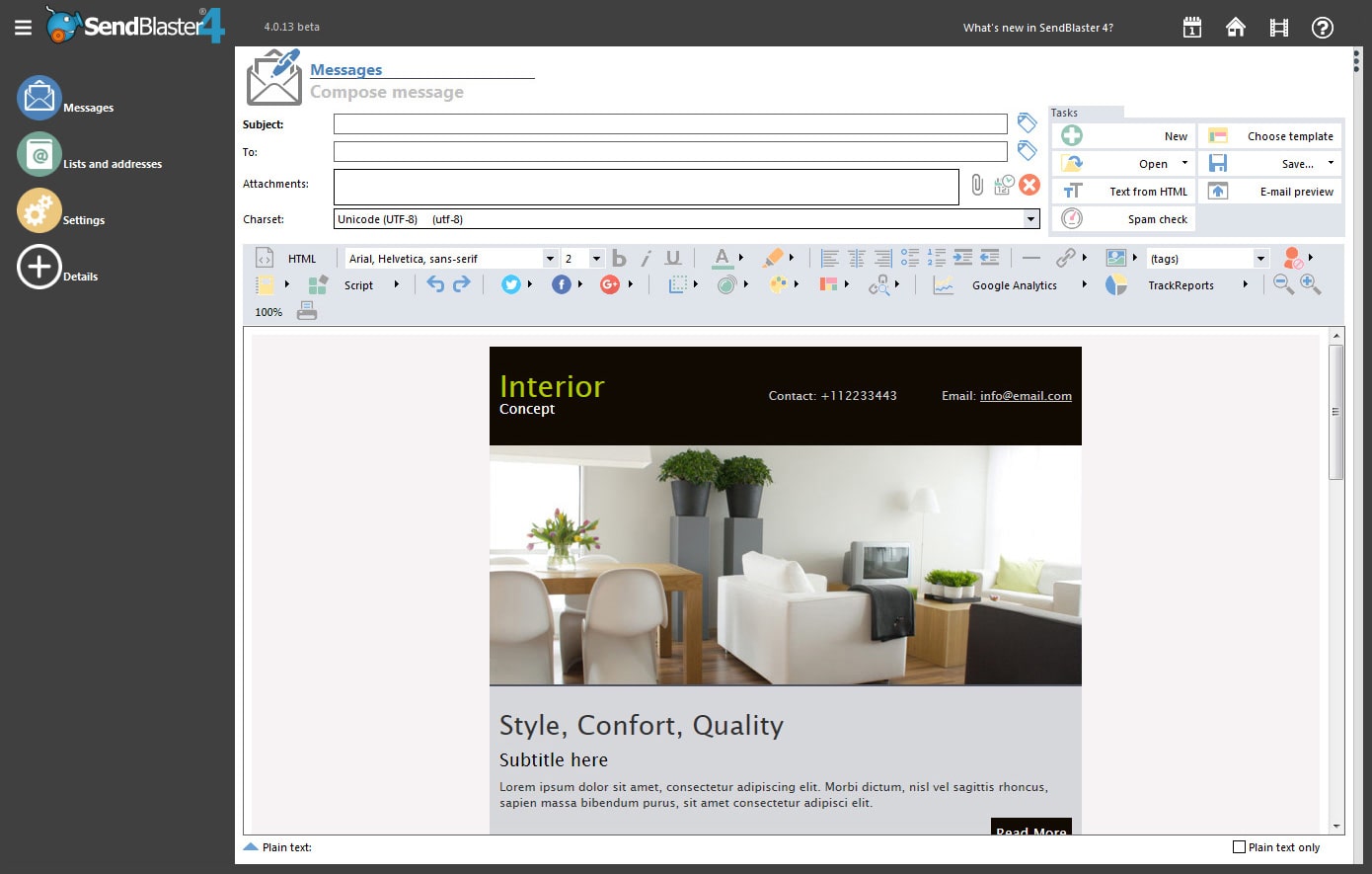 SendBlaster is the best free bulk email software for managing your mailing list and create an effective email marketing campaign. Discover the free solution or the cost effective one, a one-time payment package, which allows you to easily manage your email marketing using desktop bulk email software.
Free DownloadBuy SendBlaster Pro
Latest release: License agreement – How to uninstall
New advanced tools
New categorized templates
SendBlaster 3 comes with tons of new templates; the template browser now supports categories for better organization of templates.
Layout editor
Creating a new message from scratch is a breeze with the new layout editor: choose the email structure, add header, footer or side columns, select colors and variations in a few clicks.
Crop and replace
Select an image and replace it with a different one: SendBlaster 3 automatically resizes and crops it (without stretching it) so that it fits the original layout.
Improved message editor
More new features have been added to the message editor: changing background color, zooming, printing, adding new font families, Google+ sharing, syntax colorization of code.
Link checking
No more hidden broken links: SendBlaster 3 automatically extracts all links from your message, even the hidden ones, and lets you check them in one click.
Standard tools
Free templates
With SendBlaster 2 you get 80 ready to use templates designed by professionals. No experience in HTML editing is required.
HTML Editor
Message composing is achieved through a simple yet powerful visual HTML editor with code access, CHARSET definition and the ability to insert completely customizable field tags
HTML/.eml files importing
You can import email messages to SendBlaster from external files (HTML pages or previously saved .eml files – i.e. from Outlook Express). This allows you to create your own templetes using an external HTML editor.
HTML and Text message
The email messages are created both in HTML and plain text format in case the recipient has disabled HTML message viewing. Remeber: the hybrid HTML/Plain Text email is the best option for email marketing campaings. If a plain text part is missing, most antispam filters become suspicious. When you finish composing your message, use SendBlaster's "Text from HTML" button to automatically create a plain text part from HTML.
Personalize email
Send personalized messages ("Dear Mr. John Smith", instead of "Dear customer")
Dear #name# -> becomes -> Dear Paul
Each email you send is different using the email merge and email personalization features.
Spam check
SendBlaster now integrates the "Spam check" tool. It incorporates all the SpamAssassin rules that you need to respect to go straight to your customer's inbox.