Do you need to format your hard disk?
Do you have to move your data to a new computer and re-install SendBlaster?
SendBlaster 3 offers an easy way to backup all your data with a single mouse click.
In the vertical navigation menu sidebar, select Settings and then click on Advanced settings. Now scroll down to almost the bottom of the page and click on Backup.
A new pop-up window will appear.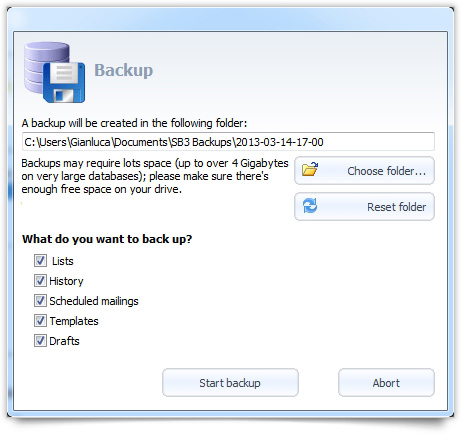 If you want to perform a full backup (which includes lists, history, scheduled mailings, templates and drafts) simply click on Start Backup, or select the individual forders that you want to back up.
The operation may take some time to complete, depending on how much data you have. When backup is complete, click OK to close.
Please note that backup folders will be automatically stored in the following path: C:\Users\user\Documents\SB3 Backups but you can select any backup destination, including a USB flash drive or other removable storage device.