How to check email spam score before sending? This free software does it all for you. MailingCheck incorporates all the SpamAssassin rules that you need to respect to go straight to your customer's inbox.

You can download Mailing Check, our free email spam check rate software archive here (right-click on the button, then Save destination as… or Save as… to download):
http://download.sendblaster.com/mailingcheck104.zip
How Mailing Spam Check Software works
When someone sends a message each email is relayed through a filtering framework. This framework consists of many bits of software, each running a different, specific test.
Each of these tests contributes to an overall SPAM score. The higher the score, the more of the individual tests decided that the message was probably SPAM. The SPAM score, and a summary of the individual tests is placed in the headers of the message before it is sent to its destination. We included all these spam rules in our free software MailingCheck.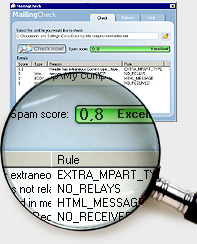 Hot Features
Absolutely free software download
Email content spam checker
Email spam rate points result
Customizable spam point ranges
SpamAssassin engine included
Email spam cleaning suggestions included
Razor Engine included
SURBL blacklists included
Can check emails for spam rates before sending
Grows bulk email inbox rate
Best offline email spam detection tool
Check mailingcheck official website to get more information about avoiding spam folder.